Gut Instinct?
Gut health has grown among consumers and physicians but, as this Peninsula Press article shows, not all providers are ready to question conventional Western medical authority.
Dr. Cynthia Li turned to alternative solutions for her own mysterious medical condition — something that would soon change her approach to life and to medicine.

Of course, she would research each of her patients' cases thoroughly, scouring PubMed articles and natural supplement databases, but her humility stood out the most. "The most valuable thing that I learned in my health journey was to come to the place of not knowing,"
Source: Breaking the mold: A doctor's illness journey changes her practice – Peninsula Press
We know surprisingly little about the internal ecosystem that is responsible for more than merely digesting food. According to an article in Scientific American the microbes there outnumber our cells 10 to 1 and have a wide variety of jobs that affect our health.
Dr. Li practiced conventional Western medicine and did not question authority. Her journey into functional medicine came from her own illness and the "referral merry-go-round" she began to experience as a patient. Dr. Li began to look beyond clinical interventions for her chronic illness.  She started with acupuncture and added more and more tools for healing. Some tools, such as environmental health (how pollutants and chemicals disrupt hormone function) and ancestral health (how an evolutionary perspective helps define diet and lifestyle), built on her medical training. Some tools like her own practice of Qigong were outside her training.
The Place of Not Knowing
This might be one of the greatest challenges to any physician. The prescribed treatment simply doesn't work. Was there a misdiagnosis? Was the patient not engaged?
With so many unknowns just in our gut microbes as well as the fact that factors outside the clinic determine 80% or more of our health, physicians simply cannot know it all. Even with all the promised Health IT advancements diagnoses will be little better until we begin to include information about consumer behavior, lifestyle, nutrition, socio-economic conditions, genetics, heritage, and so much more. Patient outcomes will only be better when physicians can openly engage and build on such information and therapies in full cooperation with other "allied" and "complementary" providers.
Our Model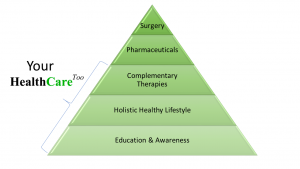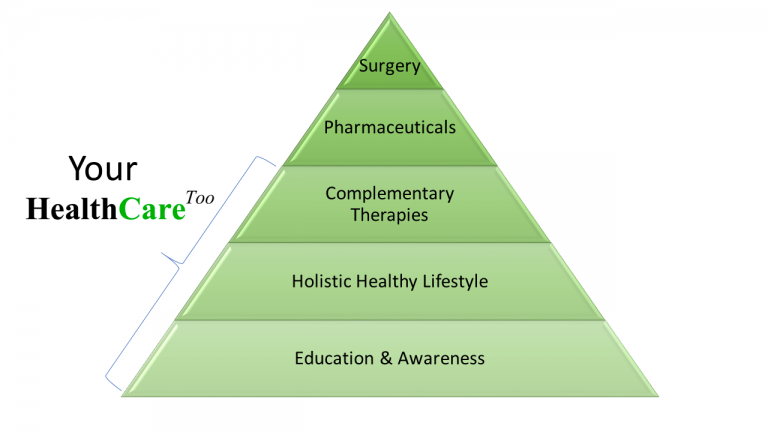 The HealthCare Too model provides for a holistic approach to health. We look for articles and knowledge to help consumers and their care teams make holistic health decisions and also shop for the best deals in holistic health so you can find them here!  We appreciate the value of surgery and pharmaceuticals but want to make more pathways available for your HealthCare Too.