European Ear Acupuncture
Usually associated with Traditional Chinese Medicine (TCM), ear acupuncture (or auricular acupuncture) has European roots as well. While the roots date back to antiquity, there is much interest in modern European ear acupuncture.
Auricular acupuncture is a diagnostic and treatment system based on normalizing the body's dysfunction through stimulation of definite points on the ear. Rudimentary forms of acupuncture which probably arose during the Stone Age have survived in many parts of the world right down to present day. It was used in the ancient Egypt, Rome, Greece and all the Mediterranean area. It is a microacupuncture technique similar to reflexology, and was first described in France in 1950 by Paul Nogier who is considered the Father of modern ear acupuncture. It was speculated that the technique works because groups of pluripotent cells contain information from the whole organism and create regional organization centers representing different parts of the body. Nevertheless stimulation of a reflex point in the ear seems relieve symptoms of distant pathologies. Modern research is confirming the efficacy of ear acupuncture for analgesia and anxiety related disease, while tobacco dependence and other substance abuse still need confirmation.
Source: Ear Acupuncture in European Traditional Medicine
Our Model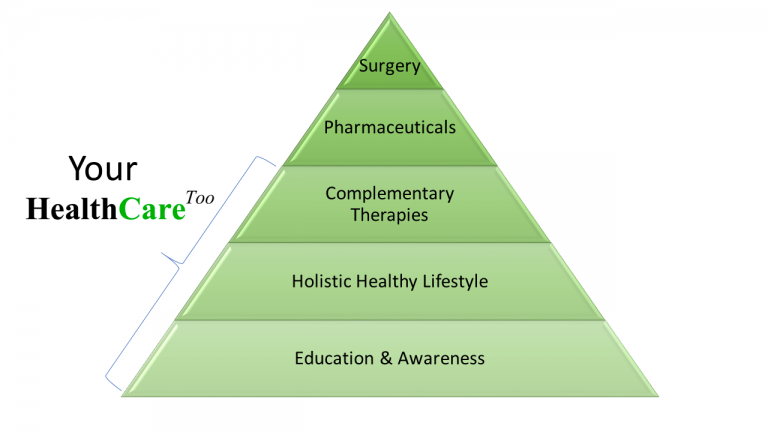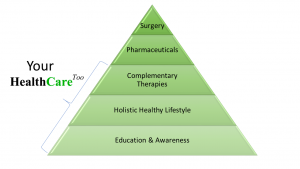 The HealthCare Too model provides for a holistic approach to health. We look for articles and knowledge to help consumers and their care teams make holistic health decisions and also shop for the best deals in holistic health so you can find them here!  We appreciate the value of surgery and pharmaceuticals but want to make more pathways available for your HealthCare Too.