Chronic Disease Epidemic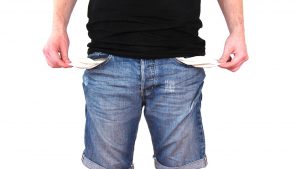 For the past several decades a chronic disease epidemic of heart disease, cancer, diabetes, and more has taken hold of the US and most Western nations. The culprit behind most of these insidious chronic diseases is the Western Lifestyle. High stress, fast food, late nights, processed meals, always behind schedule kind of Lifestyles. While our collective health faces new pathogens from our Lifestyle, our "health care" system is still geared toward fighting infectious diseases and trauma.
The current US "health care" model is a "disease management" or "sick care" model that has roots in the early 1900's when trauma and infectious diseases were the leading causes of death. If you have an injury from trauma or an infectious disease you will receive great care in the current system. I am sincerely thankful for this.

However, our current health needs are not about fighting pneumonia or influenza. Chronic diseases like heart disease or diabetes face our nation now. In fact, 86% of every dollar spent on "health care" in the US is for Chronic Disease.

Chronic diseases are not acute medical conditions. They are borne mainly of lifestyle. So the right question is really "Why is health care not treating chronic diseases properly?"

There is widespread agreement that 80% of chronic diseases could be avoided through better lifestyle decisions. We have known for decades that adopting healthy lifestyle behaviors can arrest and reverse many chronic diseases even without pharmaceuticals. However, few physicians are trained to coach better Lifestyle decisions; few insurance plans will pay for any such thing, and most patients are convinced they just need a prescription for the pill they saw on TV.
Source: "Why Is Health Care So Expensive"–The Wrong Question
Our Model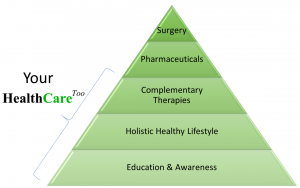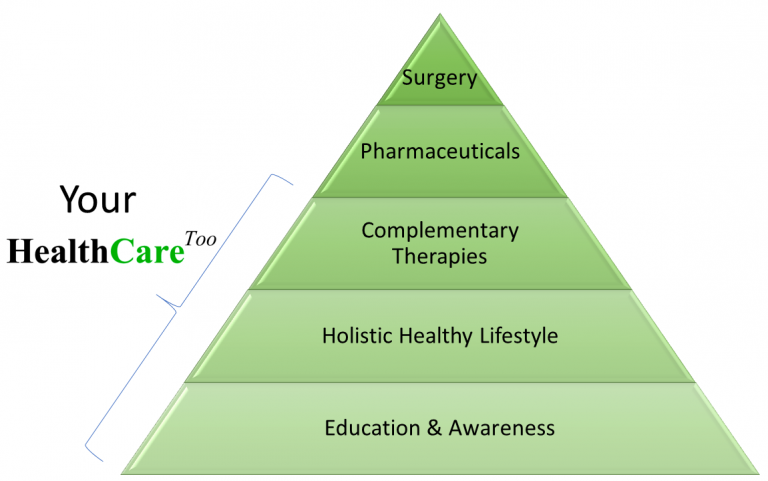 The HealthCare Too model provides for a collaborative holistic care approach to health. We look for articles and knowledge to help consumers and their care teams make holistic health decisions and also shop for the best deals in holistic health so you can find them here! We appreciate the value of surgery and pharmaceuticals but want to make more paths available for your HealthCare Too. See our model for Holistic Health for more information!