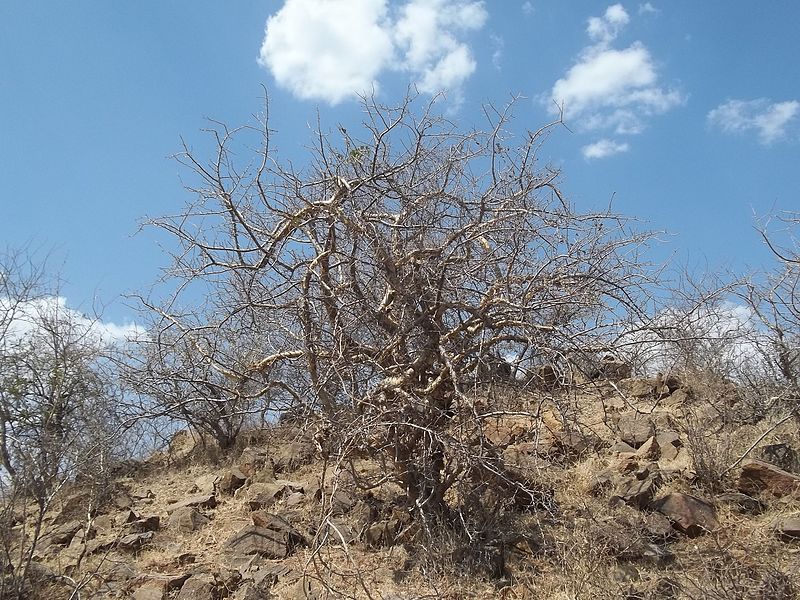 Origin: Resin from the Guggul tree, used in Ayurvedic Medicine for thousands of years.
 Form: Mainly tablets and liquid.
Potential Health Benefits:

Weight Loss
Lowering Cholesterol (hypolipidemia)
Acne
Diabetes, Type II
Antioxidant
Antiinflamatory
Atherosclerosis
Rheumatism
Various Cancers

Side Effects & Interactions: Always consult with a licensed healthcare provider.
What You Might Want To Know
Remarkable results may come from a very unremarkable bush. Native to parts of China, India, Pakistan, and Sri Lanka the Guggul tree's resin has been prized in Ayurvedic medicine for thousands of years. Modern science has now taken a keen interest in guggul as well.
Guggulsterone is the active component of gugulipid which is found in the guggul tree's resin. Ayurvedic medicine has used this guggul extract for thousands of years to treat many diseases like obesity, arthritis, acne, and more. 

Guggul benefits are not just limited to chronic diseases in the body. The Ayurveda system of medicine uses the guggul herb for mental disorders and modern science is now investigating guggul for mental health. However, we must note that Ayurveda is its own system of medicine and guggul is used for specific imbalances. These do not translate directly into Western Medicine so please work with an informed healthcare provider. 
How Does Guggul Benefit Me?
While clinical investigations continue, there is evidence to support guggul in both in vitro and in vivo studies for a variety of chronic diseases:
Arthritis
Asthma
Atherosclerosis
Barrett's esophagus
CANCER

Bladder Cancer
Brain Cancer
Breast Cancer
Cervical Cancer
Cholangiocarcinoma
Colon Cancer
Colorectal Cancer
Ehrlich tumor
Esophageal Cancer
Gall Bladder Cancer
Glioma
Head and Neck
Leukemia
Liver Cancer
Lung Cancer
Melanoma
Meningioma
Myeloma
Pancreatic Cancer
Prostate Cancer
Neuroblastoma

Cardiotoxicity (things bad for the heart)
Colitis
Dementia
Depression
Diabetes
Gastritis
Gastric injury
Gastric intestinal metaplasia
Gastric ulcer
Hepatic injury
Hepatic Fibrosis
Hyperlipidemia
Inflammatory bowel disease
Ischemia reperfusion
Kidney injury in systemic infection
Memory impairment
Myocardial ischemia
Nephrotoxicity
Neuroinflammation
Obesity
Otitis Media
Pancreatitis
Thyroid dysfunction
Uveitis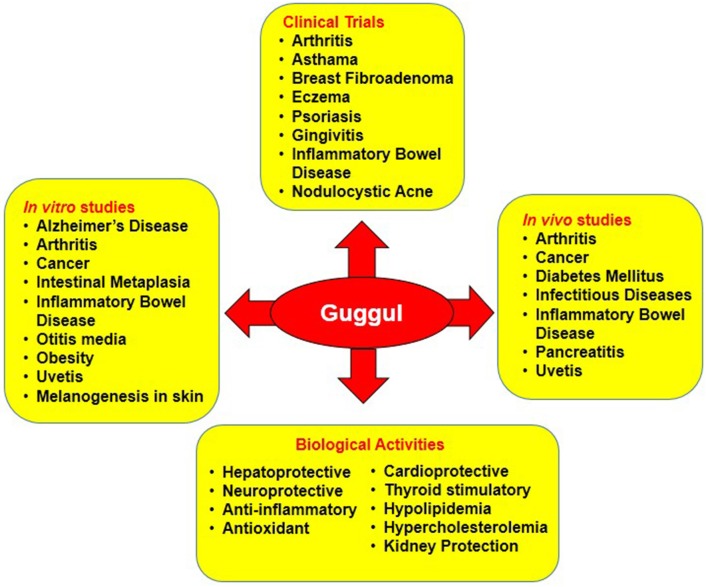 Additional Information & References
You are in charge of your health. Doing a little extra research will not only let you make better decisions but also empower YOU with knowledge. To help you learn more about guggul let HealthCare Too start you with some links:
When you are ready, here are some guggul products that may interest you.